6 Convincing Reasons to Buy a Jeep as Your Next Vehicle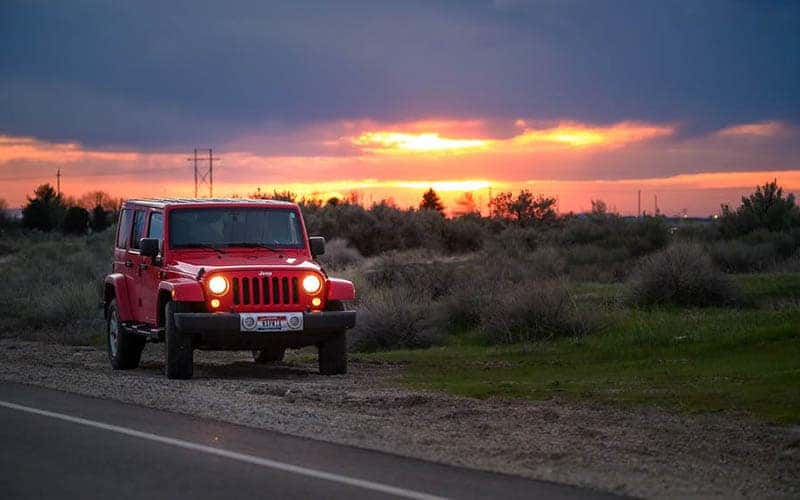 It's difficult to think of a car more American than the Jeep. 
Often considered the original SUV, this American heritage brand has a loyal following, and with good reason. Whether you're cruising the highways or exploring some of the country's top off-road trails, Jeep's utility vehicles have come to define their class. 
If you're in the market for a new car, you might be considering buying one of our new Jeeps or a pre-loved model. Either way, deciding to buy a Jeep is often a smart move. 
Read on to find out some of the reasons you should make a Jeep your next ride!
1. Variety
When people think of the Jeep brand, it's likely that the Jeep Wrangler model comes to mind. But there are in fact eight different styles of Jeep vehicles available. 
From the rugged Jeep Wrangler to the compact Jeep Patriot Renegade, there are as many different models as there are reasons to buy a Jeep. Across the board Jeeps have you covered on different specs, trims, and price points. 
And, if you opt for a Jeep Wrangler, you'll get even more variety and versatility all in one car. That's because the Wrangler's design means that you can make easy modifications as standard to adapt your Jeep to your specific needs and preferences. 
Not only can you drop the top, but you can also remove the whole roof and even lower the front windshield onto the hood. And, as with all Jeeps, it's easy to remove the rear seats for extra storage room and improved visibility. 
What's more, the Jeep Wrangler is the only SUV available with removable doors for a breezy summertime ride. Of course, you can only take off the doors when you're off-road, but there's nothing like the freedom of driving along the trail with no doors, top, or windows. 
2. Easy to Drive
If you're looking for a car with good handling that's easy to drive, you should buy a Jeep.
Regardless of the specific model, the first comment on Jeep reviews is often the great handling and ease of driving, both on and off-road. Easy maneuverability makes driving a Jeep a pleasure in the city. And, tight-turning ratios and a short wheelbase make it super easy to glide your Jeep into any parking spot. 
Plus, the 3.6-liter V6 engine that comes as standard on several different Jeep models packs in enough power to keep up with the best cars on the road.  And when it comes to off-road driving, this powerful engine is enough to blow the competition out of the water. 
3. Proven Capability
Another of the top reasons to buy a Jeep is the brand's proven capability. Jeep might be most associated with the Wrangler, but their excellent reputation goes far beyond this model. They're also renowned for producing some of the best off-road-ready vehicles available. 
Looking for off-roading extras such as skid plates, durable tires, water fording, or tow hooks? Don't feel that you have to stick to a Jeep Wrangler to get these add-ons. It doesn't matter which options you go for, Jeep offers at least one trail-ready trim for each and every model. 
4. Can Handle Any Weather
Jeeps may well be the top choice for off-roading, but why buy a Jeep if you tend to stick to the road? 
Well, you might not have to worry about driving through rough terrain, but you're likely to need a car that can handle the increasingly harsh weather conditions most parts of the country faces throughout the year. 
Snow, ice, flooding—whatever the weather, a Jeep can handle it without problems. A Jeep's off-road capabilities mean that it has great handling in any weather conditions. And the four-wheel drive gives the much-needed traction you need to guarantee safe driving, even in icy conditions. 
5. Great Value
With a variety of options for every budget, buying a Jeep has never been more affordable. 
All the features and options mentioned above might have you thinking that Jeeps come at a high price. After all, they come with a powerful engine and unique off-road extras, as well as tons of other amazing features. But, there are plenty of Jeep options that come in at under $30,000. 
Buying a new Jeep guarantees long-lasting excellence, while a used Jeep will always give you good value for money. Jeeps are and have always been American-made, and are built with durability in mind.
As such, they can last for years across thousands of miles. And, since they're economical to repair, you can be sure that you won't have to part with your Jeep for years to come. 
6. Unique Culture
So, why do people like Jeeps and favor them over other types of SUVs? Owning a Jeep is about much more than the car itself. Beyond the specialized features, great look, and driving capabilities, it comes down to the unique culture you become a part of when you take to the wheel of a Jeep. 
There are few vehicle brands that encapsulate an entire lifestyle and come complete with an army of devotees to boot. A Jeep symbolizes an adventurous spirit and promises the unlimited freedom to get off the beaten path and explore where your mood takes you. 
Depending on where you live, you might spend more time in traffic than you will exploring America's wilderness. But, at least you'll get waves and nods of acknowledgment from other Jeep drivers while you're stuck on the highway—and the trails will be ready when you are.
Reasons to Buy a Jeep
If you're looking to buy a Jeep, it's easy to find a ton of reasons in support of your decision. 
With excellent handling, unique extras, an affordable price point, and the feeling of being part of a larger community, there's no other SUV that measures up to the mighty Jeep. 
For more information, feel free to contact us with any questions or queries.